Sculpted Figures
Dryads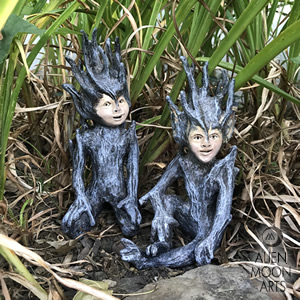 Two dryad sculptures

Click for more information
---
Psychedelic Mushroom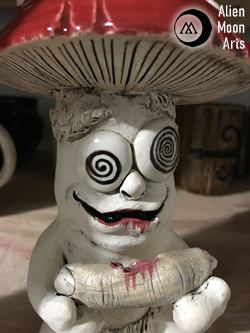 Whoaaa duuuude

Click for more information
---
Teddy with Black Heart Necklace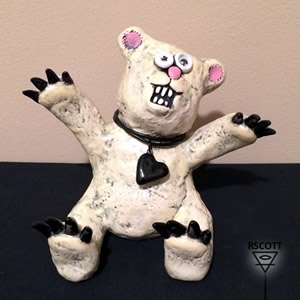 Teddy with Black Heart Necklace

Click for more information
---
Blue Bear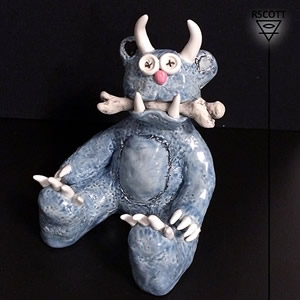 Large Blue Teddy

Click for more information
---
Tentacle Bears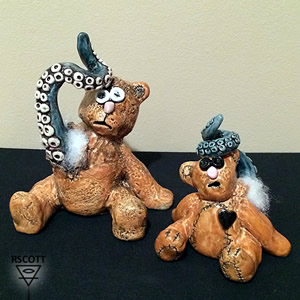 Tentacle Teddy Bears

Click for more information
---
Teddy Bear Group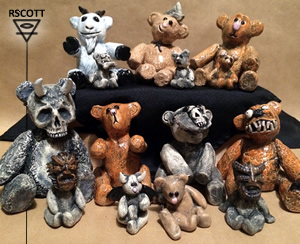 A whole variety of teddy bear sculptures

Click for more information
---
Tiki Bears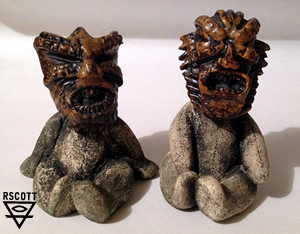 Tiki Bear Figures

Click for more information
---
Willow Shaman Mask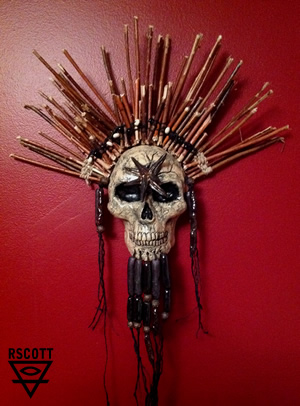 Willow Shaman Mask with Headdress

Click for more information
---
Willow Skull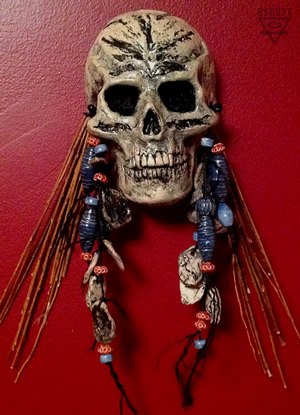 Willow Skull Mask

Click for more information
---
Toothy Teddy Bear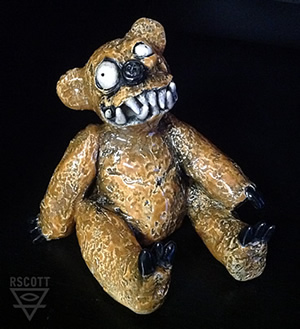 A teddy bear with a wide toothy grin

Click for more information
---
Teddy Stitches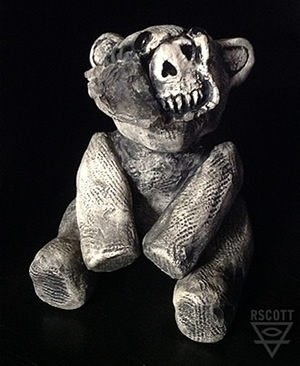 Teddy Bear figure with skull exposed

Click for more information
---
The Journey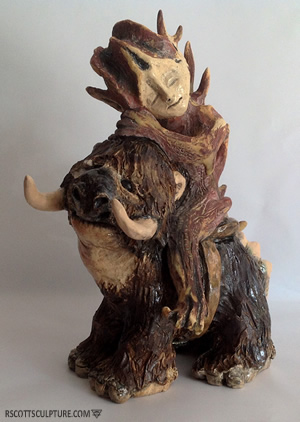 Tree Sprout and Companion

Click for more information
---
Grinning Satyr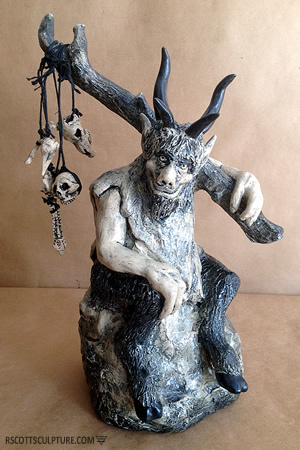 Grinning Satyr Sculpture

Click for more information
---
Teddy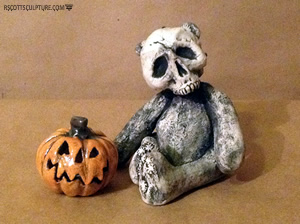 Teddy with Skull Mask

Click for more information
---
Chester Fall Craft Show Demonstration Pumpkins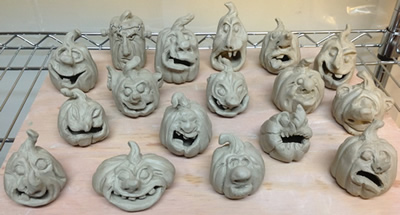 Small pumpkins made at the Chester Fall Craft Show 2013

Click for more information
---
Raku Pieces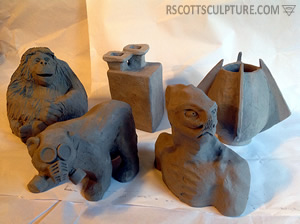 Some new pieces heading to a Raku firing next weekend!

Click for more information
---
Best Dressed Pug in Pink 2013 Trophies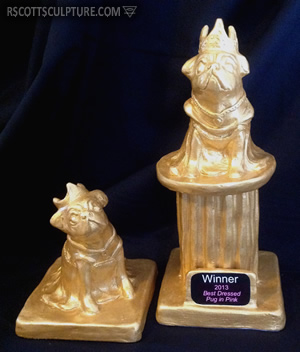 Custom trophies for the Pugs for Pinky foundation's 2nd annual "Best Dressed Pug in Pink"

Click for more information
---
Miniature Skulls Group-1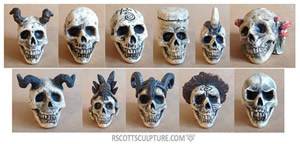 A group of miniature handmade skulls.

Click for more information
---
Mini Skull with Headdress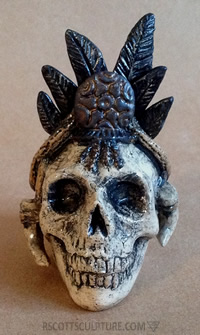 A 3 1/2" mini Skull with headdress

Click for more information
---
Meerkat Sculpture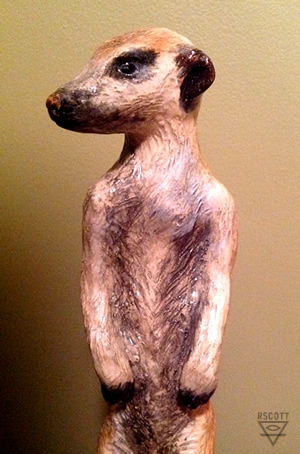 Meerkat sculpture in stoneware

Click for more information
---
Engraved Mini Skull with Headdress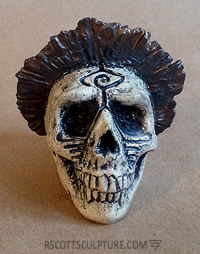 A 2 3/4" tall stoneware skull

Click for more information
---
Horned Skull with Leaves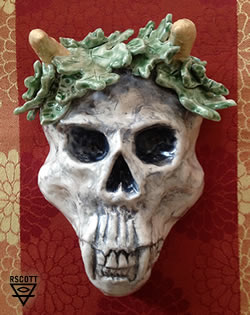 Horned skull mask with crown of leaves

Click for more information
---
Oak Greenman Plaque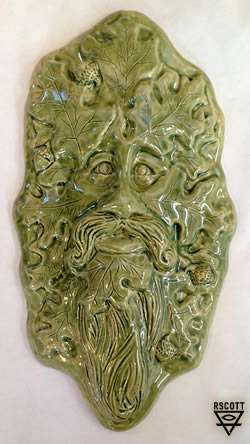 Greenman Oak Plaque in celadon glaze

Click for more information
---
Fanged Skull Mask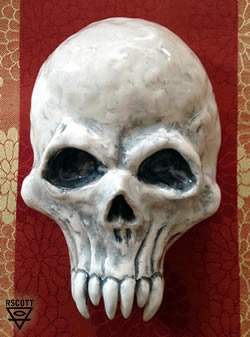 Skull mask with fangs

Click for more information
---
Three Black Cats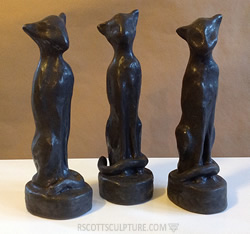 Hand built Cat Sculptures

Click for more information
---
The Four Unwise Pumpkins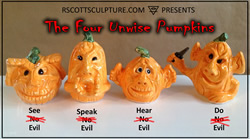 Set of whimsical Earthenware pumpkins

Click for more information
---
Nightclimber
20" Stoneware shown in the raw, unfired stage

Click for more information
---
Princess Pug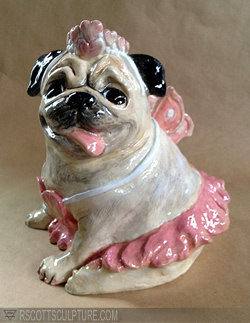 This pug has got the trophy in the bag!

Click for more information
---
Cricket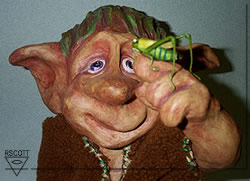 Cricket is a stoneware troll figure

Click for more information
---
Tree Creature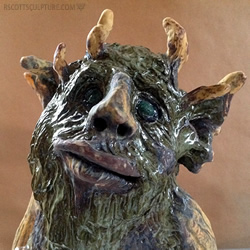 This fellow just out for a walk :)

Click for more information
---
Gargoyle With Flower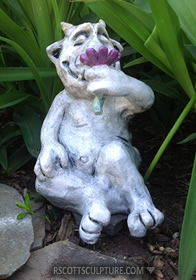 Garden Gargoyle figure holding s flower

Click for more information
---
Alien Bust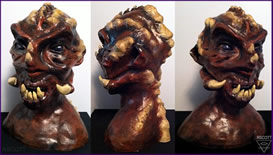 Sculpted bust of an alien creature.

Click for more information
---
Small Troll with Wings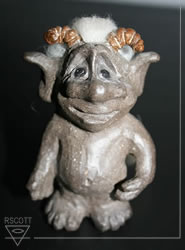 A little Troll from the forest

Click for more information
---
Raven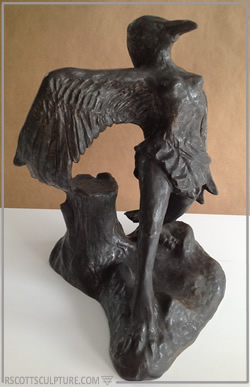 Female raven sculpture

Click for more information
---
Studio News

2021-05-18 - Etsy Store
The Etsy shop will be closed for September due to an exciting full month of shows. Hope to see you at one of the events!


2021-01-19 - 2021 Events
I am adding to the 2021 Events page as things move along. Waiting to hear on several events and am looking forward to getting back out to the shows!


2021-01-18 - Thank you
Thank you everyone for stopping by and your interest in my work. Unfortunately I cannot take on any custom orders right now. Please enjoy the gallery here of my previous works and I will be sharing new pieces available soon!


Go to: