Tiles
Bird Skull Tile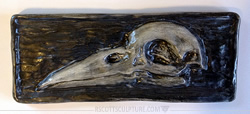 Stoneware decorative Bird Skull tile

Click for more information
---
Studio News

2020-03-17 - Items for Sale
Due to the number of event cancellations I am working on a for sale page here on the site. I will have this done very soon, thanks for your support. Stay safe and healthy everyone!


2019-11-15 - 2020 Events
Here comes the winter!
I've added shows for 2020 and will add more as they are confirmed Events & Shows


2019-11-15 - Winter 2019
Thanks for a great year!
2019 was our busiest year yet and we are adding many new shows for the new year!


Go to: 1
2
Next